Hi. We're White Whale Web Services.

We design and develop websites, user experiences, and big ideas. 
Our clients include some of the biggest, the smallest, and the most interesting colleges and universities in the world.
We like challenges. With almost two decades of experience in higher education, there aren't many that we haven't faced before. Whatever problem you're facing: we can probably help.
We're a full-service firm. We typically take on three large-scale web redesigns per year, alongside a variety of smaller consulting and development projects.
Here's a list of the services that we provide (not including web committee talk therapist & budget sommelier, which we include with all projects free of charge).
Research and Discovery
Branding & Messaging
Content Strategy
Information Architecture
Web Design
Social Media Strategy
Print Design
Responsive, Accessible Code
Usability Testing
CMS Implementation
Writing and Editing
Teaching & Workshops
Our Community of Customers
Here are some of the colleges and universities we've worked with on redesigns, and CMS or calendar implementations:
Alma College
Angelo State
Beloit College
Bemidji State
Bowdoin College
Brown University
Carthage College
College of the Atlantic
Eastern Florida State College
Emory & Henry College
Franklin University Switzerland
Georgetown University Alumni
Henderson State University
Laboure College
Lake Forest College
Lewis & Clark College
Marian University
Menlo School
Merrimack College
Marymount Manhattan College
Morehead State University
Mt. San Antonio College
Northeastern University
NYU
Our Lady of Lourdes School
Occidental College
Penn Law
Penn Nursing
Penn Wharton PPI
Perelman School of Medicine
Purchase College (SUNY)
Rice University
Roosevelt University
Santa Clara University
San Francisco School
Shattuck-St. Mary's School
Simon Fraser University
Southwestern University
Syracuse University
Texas A&M University
Tarleton State University
Temple College
Temple Law
University of Florida
University of Houston
University of Akron
University of Oklahoma
Ursinus
Washington College
Wentworth Institute of Technology
Western Oregon University
It's a pretty long list, we know.
But there's still room on it for you!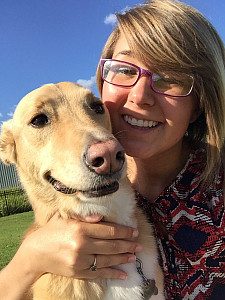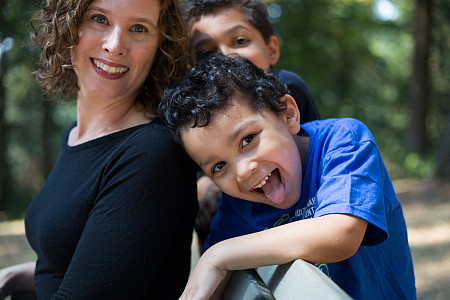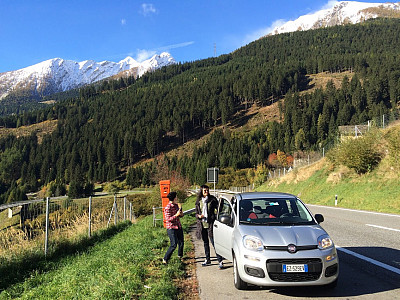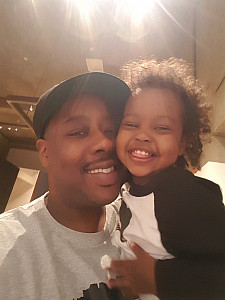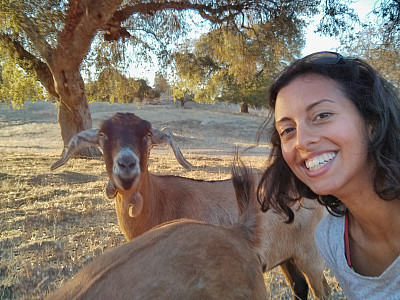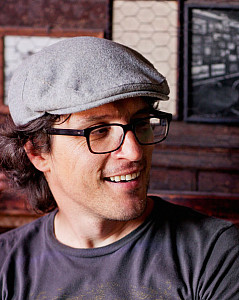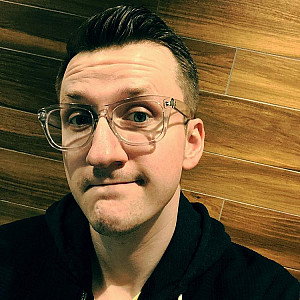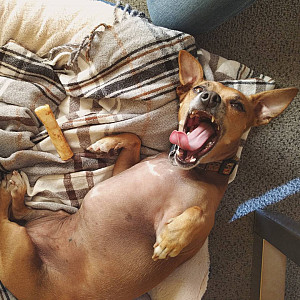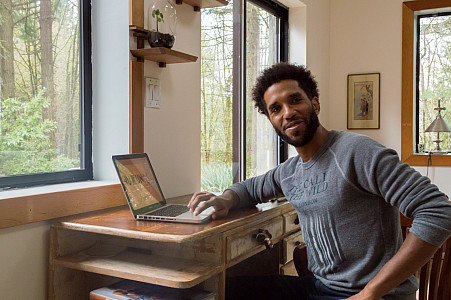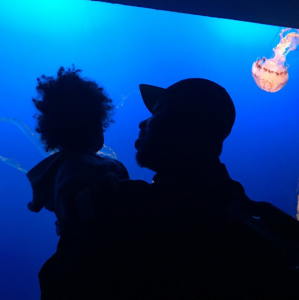 Four of us work at White Whale's Oakland headquarters; other team members telecommute from home offices in Portland, Chicago, central Michigan, and NYC.
Jason Pontius, founder and president
Tonya Moyle, vice president
Janie Porche, creative director
Alex Romanovich, technical director
Karl Hinze, director of support
Naomi Royall, senior developer
Katie Compo, project manager
Isaac McGowan, front end developer
Ismail Youngblood, marketing coordinator
Our extended family includes nine children, five dogs, eight cats, six chickens, and two harpsichords.
LiveWhale CMS and Calendar
We are the developers of LiveWhale CMS and LiveWhale Calendar, two of the most beloved content management and calendaring products on Earth.  
We build tools that are easy— even fun— for the people who use them most: the staff, faculty, and students who make your school a great place to live and learn.
LiveWhale CMS is "content management for storytellers"— its flexible, easy-to-use tools let everyone on your campus have a role to play in the telling of your story. LiveWhale is the best of both worlds: flexible and extensible like an open source product, supported and plug-and-play like a proprietary CMS.
LiveWhale Calendar is a full-featured web calendaring solution used by colleges and universities around the world.
It's designed to meet all the calendaring needs of educational institutions like yours, right out of the box.
You can learn more about the LiveWhale product family by visiting the CMS and calendar websites.
No matter where you are in the process: 
RFP, pre-RFP, ASAP, or WTF - 
we're happy to talk.
Phone: (510) 808-4028
Email: hello@whitewhale.net
White Whale Web Services
1904 Franklin Street, Suite 701
Oakland, CA 94612
Our fax number is 510-452-1874.
Our fax machine's Twitter account is @WhiteWhaleFax.
Case Studies
What makes us proud?
(If we work together, that's a question we'll ask you, too.)
---
We love when our clients come back and work with us again and again; we also love when they've learned enough to tackle their next project without us. We love when alumni write in to congratulate the web team.
We love when a design mockup scares the provost, just a little. We love when the right words make a student hold her breath.
We don't enter our work in design competitions, because, ehh. However, our clients often do, and we're proud that our partnerships have led to national and regional CASE awards, a Webby, happier staff, and yes, increased best-fit applicants.
Here are a few stories from our recent projects.
Case Study:
College of the Atlantic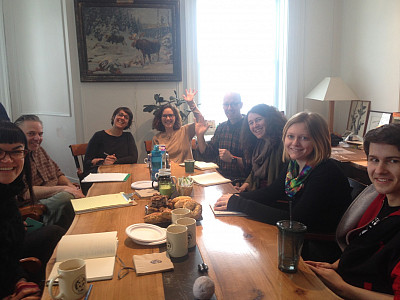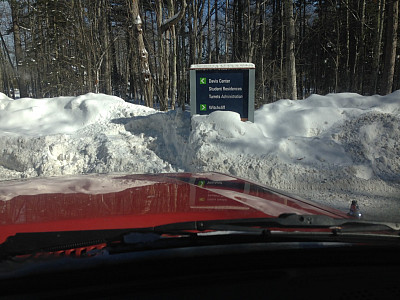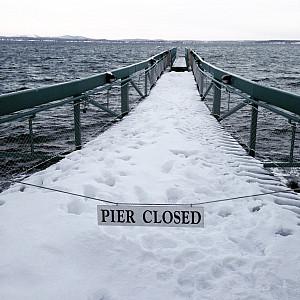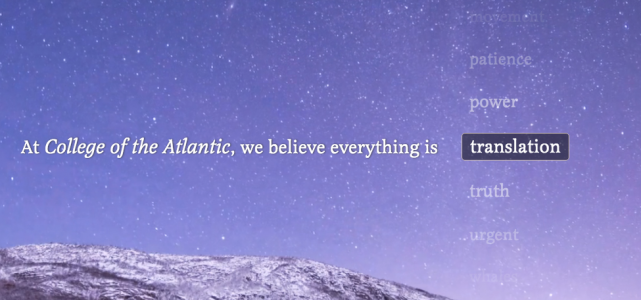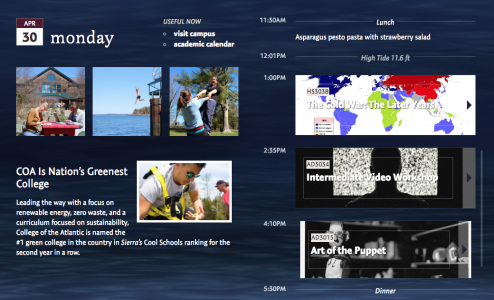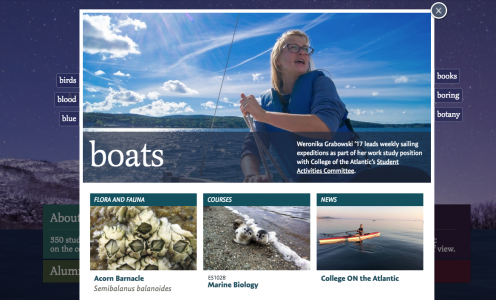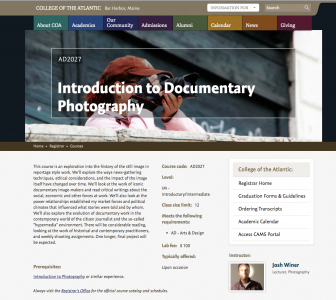 Truth be told, we got excited way too early. Early on in this professional courtship, we felt a special bond with this tiny school… after all, they do study whales. But beyond the curriculum, we identified with a small, hardworking team that communicates on behalf of a singular, special place.
Everyone who enrolls at COA studies Human Ecology, but each student chooses a path of interest: ranging from the natural sciences to the arts. In our on-campus meetings, several people were quick to suggest a more organic way of finding content - what became known as "the universe of tags."
Using the LiveWhale CMS, we defined content types that would be ideal for our tag universe. Some of these were standard for colleges: faculty, staff, and student profiles; alumni outcome stories, news, and events. We added a few more that usually scare web committees: the courses (synced from a third-party curriculum database), and student work. Rounding out our tagged content: maps, local resources, native plants and animals.
COA had some unique design needs: we've never had clients use phrases like "profound patience," "intentional misdirection," and "it shouldn't have all the answers." The site also needed to be intrinsically, purely, in and of Bar Harbor; COA's best-fit prospective students can't always afford to make the trip to seaside Maine.
The final design contains elements that stretched us, scared us, and delighted us.
A daily calendar on the homepage integrates live courses, community events, the dining menu, and the tides.
The homepage feature shifts at sunrise and again at sunset—local time.
In the spirit of "shopping local", our web fonts are made in Maine.
Photography comes from students and staff - as well as making use of their photo archive to adorn the Course pages.
Students can edit their own profiles, and left to their own devices and the right prompts, they're far better at describing COA than we ever could be.
The COA site won the 2016 CASE Gold Circle of Excellence award as the best higher ed site in America.
Case Study:
Purchase College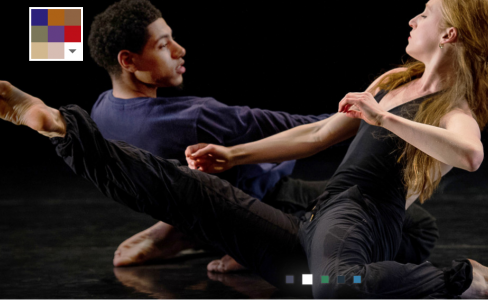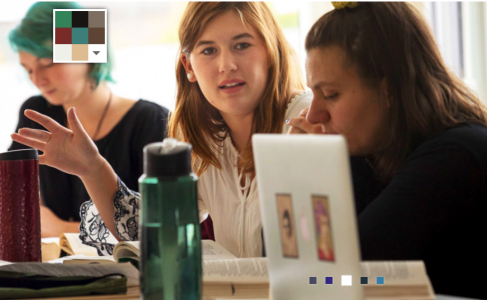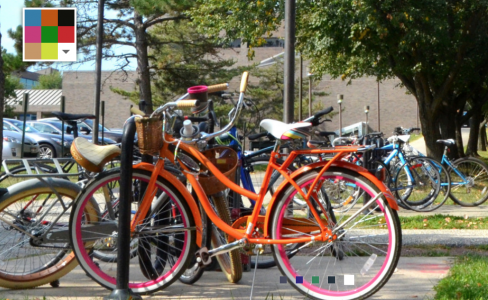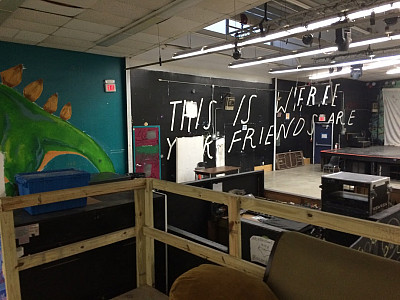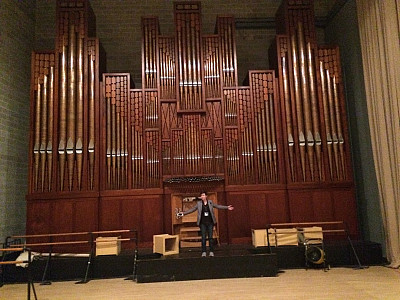 When SUNY Purchase first contacted White Whale, they knew their current site needed a total revamp. Everything from the design to the content to the site architecture and CMS needed a fresh start.
Together we determined that Purchase needed a design that was unconventional, colorful, constantly changing.
There's more to Purchase than their arts programs— much more, in fact— but they are known as a powerhouse in the visual and performing arts. And the creativity and sense of experimentation that permeates their curriculum needs to drive their website as well. When we visited campus for the first time, we were surprised at how often Purchase people asked what color the site was going to be. People who know Purchase know why that is. Their school colors are heliotrope and puce, and their "official palette" has 16 colors in it. (This just isn't a "Go Blue!" kind of school.)
We found an ingenious and unusual way to honor this aspect of Purchase culture: by literally creating the site's color palette from Purchase itself.
The color scheme of the entire Purchase core site is pulled dynamically from the large feature photo used on the homepage. Users can select from a set of feature photos (which change regularly); this choice determines the colors used for the site's links, headers, and even the Purchase logo and website favicon. (We know of no other website, in education or elsewhere, that uses color like this.)
We helped Purchase through this huge undertaking and the campus culture shift it required, coming out the other side with a beautiful new site that reflects their unique and quirky campus in a fresh way.
The Purchase site was recently selected as the best website in the SUNY system (out of 64 SUNY institutions) by the State University of New York Council for University Advancement.
Case Study:
Santa Clara University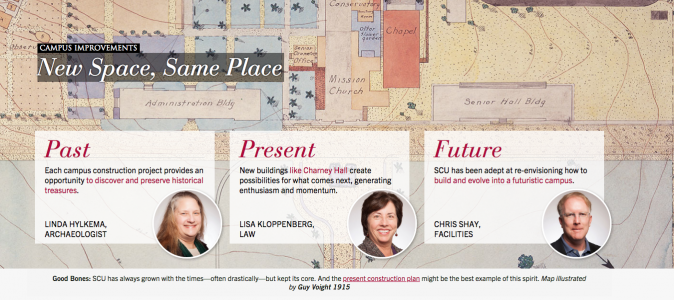 The Santa Clara project was one of the largest and deepest that we've ever undertaken. Our community-centered research and discovery phase included interviews with over 400 campus stakeholders, many of which took place inside the award-winning Refract House.
But beyond their practical needs, the constituents at SCU wanted to see a homepage feature that went beyond a "hero photo" — though they definitely wanted that too! As leaders in Jesuit education, the faculty at SCU are often charged with seeing all sides of the impact of their research, answering to its ethics, delivering it to those who need it most.
The design library, templates, and styleguides needed to be flexible enough to accommodate LOTS of subsites, from academic departments to community initiatives to graduate programs. They also all needed to integrate seamlessly with the TerminalFour CMS, and LiveWhale Calendar.
The final site combines elements of classic Jesuit design with the responsiveness and fluidity that permeates Silicon Valley.
The homepage feature always encourages three perspectives, and in its default state of "Can we?" "Should we?" "Will we?", it provides a narrative call to action for all scholarship in the faith.
The design library allowed SCU staff to build representative subsites on their own, while still keeping a consistency of look and tone.
Previously hidden and notoriously difficult to share, campus events are now vivid, engaging examples of dynamic content that appear throughout the site.
We supplied 300+ new pages with writing, and 200+ pages with detailed content recommendations based on staff and student interviews. Then we conducted training sessions with admins and faculty.
Finally, we stuck around after the project for a planned post-launch analysis and fine-tuning… and a celebration at the The Hut, of course.
Case Study:
Northeastern University Giving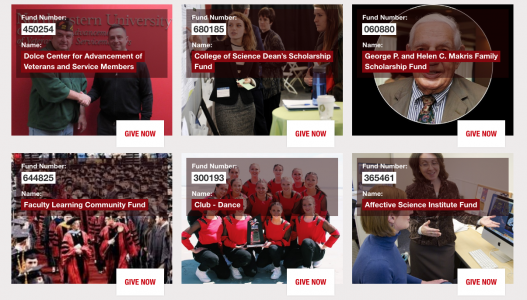 Northeastern hired us to rethink their online giving website, with a focus on donor communications and the online giving process.
One of the most common problems in higher ed philanthropy is the sheer number of ways donors can target their gifts. There are often hundreds of funds that can be targeted with a gift, posing a challenge for information design: how can you make these options available to your donor base without confusing them?
Our solution, in a sense, was to turn typical educational giving communications inside out. Northeastern's site puts the funds themselves first: using them to tell the story of the remarkable diversity of interests and passion throughout the institution.
No matter what you're interested in, someone at Northeastern is doing it— and now the Northeastern Giving team can match your interests to a story that will capture your imagination and drive you to support it.
Utilizing LiveWhale CMS tools typically used for faculty profiles, we created rich, compelling profiles of hundreds of university funds— making each a storytelling opportunity.
And all these stories funnel users to a simple, easy-to-use online donation form.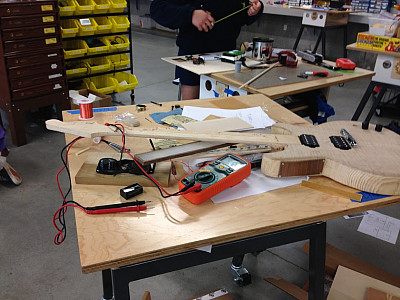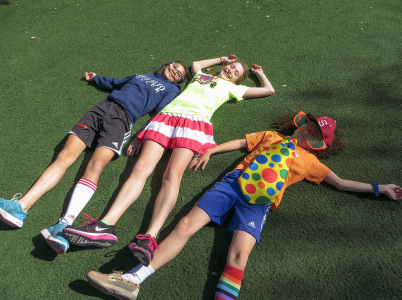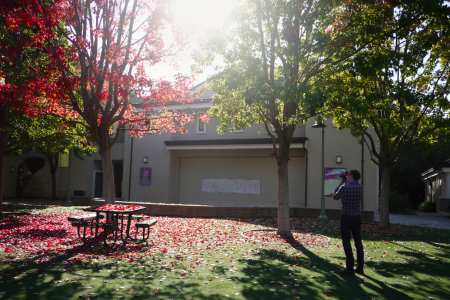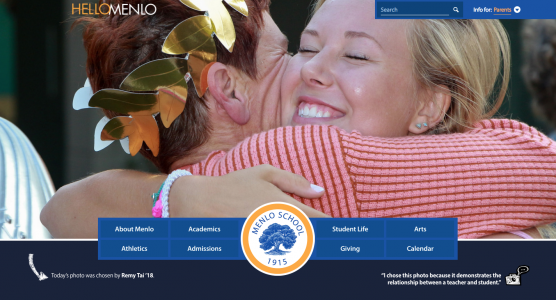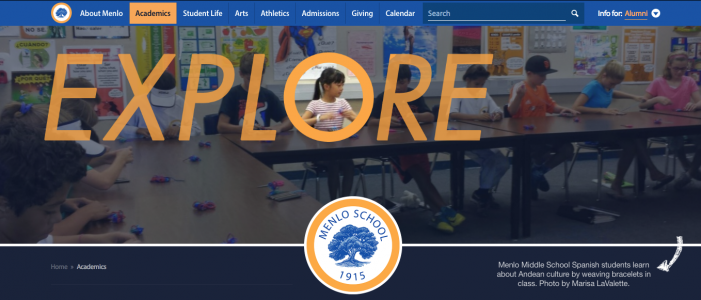 All of us wish that we spent seventh grade at the Menlo School. A robotics lab? A running track with engraved math equations? Stand-out athletics on a historic campus?
We immediately identified two things that Menlo School had going for them in a big way: first, they have a skilled and prolific campus photographer, Pete Zivkov. (We know, it's just not fair.)
But unlike some of our higher-ed clients, they didn't have to force every photo to be "academic enough". We could show happy students just enjoying and supporting each other! - and because that environment is such a valuable product of the school, we didn't have to dress it up for any deans.
So, using the LiveWhale CMS, we built a homepage for Menlo that features a new photo every day - each one chosen and captioned by a Menlo student. (For reunions and anniversaries, alums can submit their photos too!) The amazing "developer team" at Menlo (his name is Gabe) even used the LiveWhale API to build an open-source scheduling plugin that received lavish praise during the LiveWhale Developers Conference.
The final site continues to grow beautifully as the Menlo team adds new content areas and features.
Integrated search function quickly searches keywords, resources, people, events, and pages - including a few styled results! (Try searching "athletics" on the homepage.)
Landing pages feature rich content and utilize a "white background" portrait style on the bottom of the page to introduce more Menlo faces.
Integration with Menlo's parent login system allows access to customized news and announcement pages for each grade.
Tiny design touches help the site to feel more like the school itself - complete with the famous Menlo grass.
The site received a CASE District VII Award of Excellence, where it took top prize among the education field - which included full .edu redesigns. The number of happy parents that we heard about through the grapevine made us even more excited than the hardware.
Our relationship with Menlo is ongoing - in addition to occasional updates related to messaging and new programs, they are always one of the more popular presenters at LWDC, and hosted the conference in 2014.
If you're a college, university, or independent school with a unique problem— or a unique opportunity— then we'd love the chance to help you out.
Let's make your website as great as your school is.